Data Source
Institutional Data
COT Data
Commitments of Traders
Commitments of Traders Report can show you the real market direction based on the long and short positions of the market makers. MarketBulls offers you the latest COT report with various analysis tools, indexes, charts and tables.
Seasonal Tendencies
Seasonalities
Get the most accurate seasonal tendencies based on a new algorithm for almost any market! Understand weekly, monthly and quarterly trends & market shifts. Use seasonal tendencies for your trading and increase your edge!
Interest Rates
Currency Interest Rates
MarketBulls offers you much more than just interest rates. Analyze and contrast different interest rates to gain a deep fundamental understanding and increase your trading win rates.
Inflation Data
Inflation
Understand what inflation really means to the markets, how deviations in inflation are the driver for the market makers decisions and much more. MarketBulls provides all current and historical inflation data for your fundamental analysis.
Bank Orders
Institutional Orders
Trade in line with the major institutions by gaining insight into their positions. The banks' position sizes and market levels round out your trading strategy.
Sentiment Data
Sentiment
MarketBulls combines sentiment indicators from the largest providers to give you the ultimate sentiment indicator. Get live data with deep market insights.
Join MarketBulls Analytics
Analytical Platform
Live Data
Institutional Indicators
Various Markets
Easy-To-Use Analytical Platform
With MarketBulls Analytics, you will get access to the greatest data tool for institutional trading. Get all the insights you need with just one tool. Bring your trading to the next level with MarketBulls Analytics.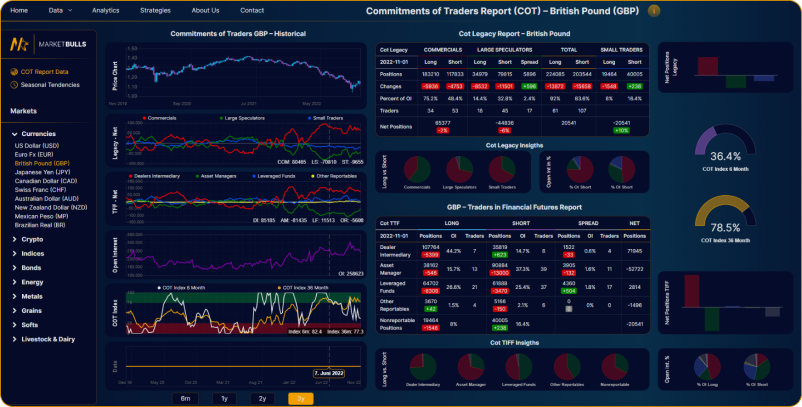 Live Data Delivery
MarketBulls Analytics works with 34 different data providers to guarantee you live data streams as well as extremely accurate indicator & indexes solutions.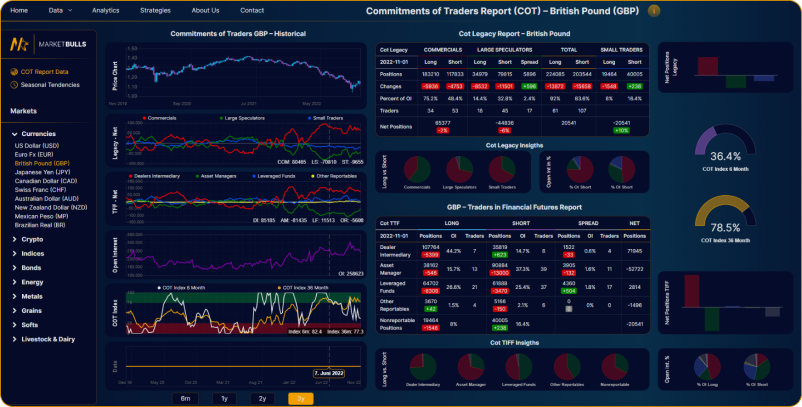 Advanced Institutional Indicators
MarketBulls Analytics gives you access to all institutional indicators, which are based on different institutional data sources and their combination. Access the most accurate indicators based on institutional insights.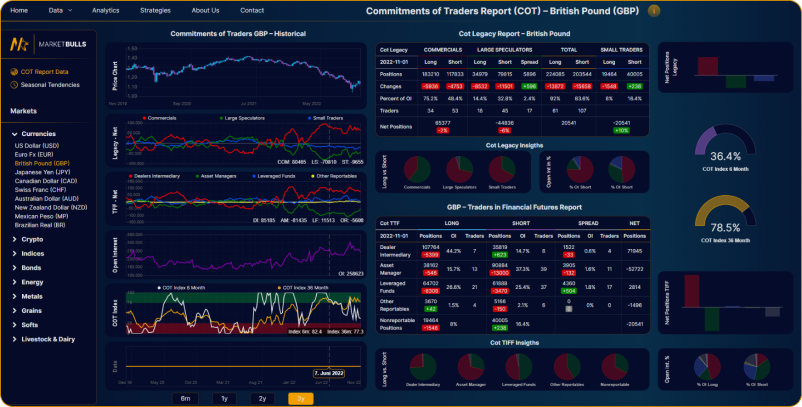 Large Market Diversity
Get access to data for almost any market: Currency Futures, Forex, Indices, Bonds, Energy, Metals, Grains, Softs, Meats & more. Get unlimited access to all important institutional data for your specific market.